French (Niçoise) Salad

---
Dinner's on the table in no time with this quick salad. Crispy beans and radishes join tomatoes, baby potatoes, hard-boiled eggs, tuna and olives to create a crowd-pleasing meal.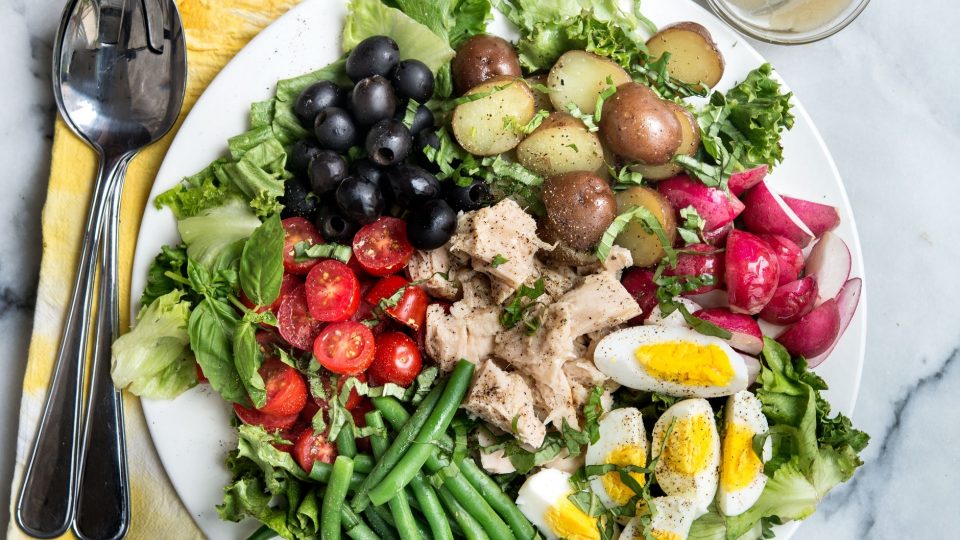 Ready In: 30 Minutes
Prep Time: 15 Minutes Cook Time: 15 Minutes
Ingredients
---
Directions
---
Step 1:
Place potatoes in medium pot. Add cold water to cover by 1 inch. Season with salt, bring to boil and cook until potatoes are fork-tender, 12 to 15 minutes. Remove and pat dry. Slice in half.
Step 2:
Add green beans to simmering water and cook until crisp-tender, 2 to 3 minutes. Using slotted spoon, transfer to ice water bath. Chill beans until cold, about 3 minutes. Transfer to paper towels and pat dry.
Step 3:
Arrange lettuce on large serving plate. Arrange potatoes, green beans, cherry tomatoes, radishes, eggs, olives and tuna on top.
Step 4:
Drizzle with dressing.
Step 5:
Garnish with basil leaves.