Parmesan Crusted Chicken With Tomato Relish
---
Easy to make and full of flavor, try our parmesan crusted chicken breasts served over your favorite salad greens, tomatoes, and basil.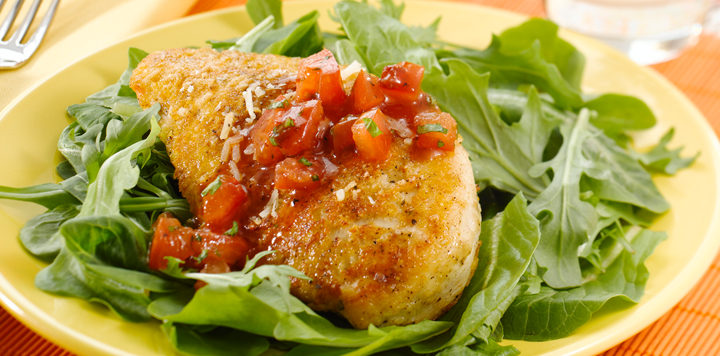 Ready In: 35 Minutes
Prep Time: 20 Minutes Cook Time: 10 to 15 Minutes
Ingredients
---
Directions
---
In a shallow bowl combine, Parmesan cheese and black pepper. In another shallow bowl, whisk together egg white and water. Line a sheet pan with parchment paper. Dip each chicken breast in egg white mixture then into Parmesan cheese, coating each side. Transfer to prepared pan and refrigerate 15 minutes.
In a bowl combine Girard's Olde® Venice Italian Salad Dressing, tomatoes, basil, salt and pepper. Set aside.
Heat oil in a large skillet, add chicken breasts and cook 5 to 8 minutes per side or until chicken is thoroughly cooked. Place salad greens on each plate, top with cooked chicken and serve with relish.