Zucchini Tots with Ranch Dressing
---
Pack your vegetables into snack time with these cheesy baked zucchini tots served with Marzetti® Simply 60™ Buttermilk Ranch Dressing.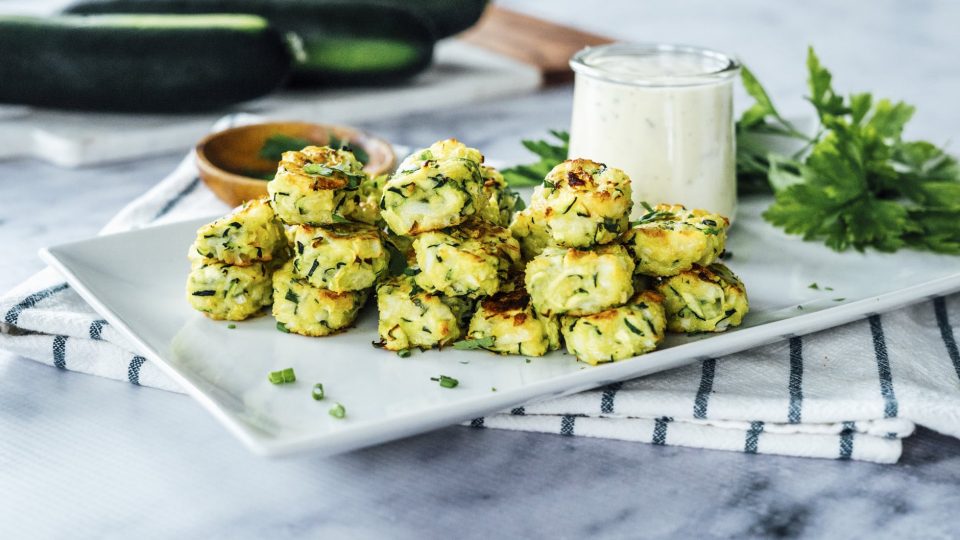 Ready In: 25 Minutes
Prep Time: 10 Minutes Cook Time: 15 Minutes
Ingredients
---
Directions
---
Step 1:
Preheat oven to 400°F. Line baking sheet with parchment paper. Grate zucchini into fine mesh strainer using large holes on box grater. Set strainer over bowl and use wooden spoon to press down on zucchini to release excess moisture.
Step 2:
Combine 1 packed cup of the grated and drained zucchini with egg, onion, garlic, parsley, chives, cheddar cheese, Parmesan cheese, salt and pepper in large mixing bowl. Add breadcrumbs and stir until combined.
Step 3:
Use hands to shape 1 tablespoon zucchini mixture into rectangle tot shape. Space tots evenly on prepared baking sheet.
Step 4:
Bake zucchini tots for 15 to 18 minutes until golden brown, flipping halfway through.
Step 5:
Serve tots with buttermilk ranch dressing garnished with parsley and chives.